NOFEs pris for beste artikkel 
Prisen på kr 10 000,- deles ut til førsteforfatter av epidemiologi-artikkel som er publisert med DOI nummer (online eller på trykk) i et internasjonalt vitenskapelig tidsskrift f.o.m. oktober foregående år t.o.m. september inneværende år. Publikasjonen skal være basert på norske data eller tilknyttet en norsk institusjon. Prisen deles ut på den årlige NOFE-konferansen i oktober/november. Frist for innsending av forslag til kandidat er 1.september og sendes til post@nofe.no. Innsenderen oppfordres til å gi en kort begrunnelse for nomineringen.
Det bør avklares at prisvinneren kan delta på konferansen. Dersom førsteforfatter selv er forhindret fra å delta på konferansen, må en av medforfatterne kunne delta for å motta prisen og presentere artikkelen på vegne av prisvinneren.
De nominerte artiklene vil vurderes av en egen bedømmelseskomité som er oppnevnt av styret. Vurderingskriterier er fremragende vitenskapelig kvalitet og integritet i a) metodisk robusthet, b) presentasjon og c) bidrag til fagfeltet.
_______________________________
Gratulerer til Maria Brandkvist for NOFEs pris for beste artikkel 2021!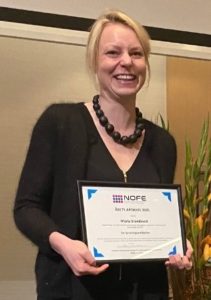 Prisen ble delt ut 3.november 2021 i forbindelse med NOFEs 27. konferanse i Bergen. Den gikk til Maria Brandkvist ved Institutt for samfunnsmedisin og sykepleie, NTNU/St.Olavs hospital, Trondheim. Artikkelen "Genetic associations with temporal shifts in obesity and severe obesity during the obesity epidemic in Norway: A longitudinal population-based cohort (the HUNT Study)" ble publisert i PLOS Medicine i desember 2020. I artikkelen studeres samspillet mellom genetisk disposisjon for overvekt og fedme og i hvilken grad økningen i overvekt og fedme i befolkningen kan tilskrives genetisk disposisjon.
TIDLIGERE VINNERE
2020: Ben Brumpton
Brumpton, B., Sanderson, E., Heilbron, K. et al. Avoiding dynastic, assortative mating, and population stratification biases in Mendelian randomization through within-family analyses. Nat Commun 11, 3519 (2020).
2019: Ekaterina Sharashova
Sharashova E, Wilsgaard T, Ball J, Morseth B, Gerdts E, Hopstock LA, Mathiesen EB, Schirmer H, Løchen ML. Long-term blood pressure trajectories and incident atrial fibrillation in women and men: the Tromsø Study. Eur Heart J 2020; 41:1554-1562
2018: Mats Julius Stensrud
Stensrud MJ, Valberg M. Inequality in genetic cancer risk suggests bad genes rather than bad luck. Nat Commun 2017; 8: 1165
2017: Paz Lopez-Doriga Ruiz
Paz LD Ruiz, Lars C Stene, Hanne L Gulseth, German Tapia, Lill Trogstad, Inger J Bakken, Siri E Håberg. Pandemic Influenza A H1N1 Vaccination and Subsequent Risk of Type 1 Diabetes in Norway. Epidemiology 2018; 29: e6-e8
2016: Maria Magnus
Maria C. Magnus; Sjurdur F. Olsen; Charlotta Granström; Geir Joner; Torild Skrivarhaug; Jannet Svensson; Jesper Johannesen; Pål Njølstad; Per Magnus; Ketil Størdal; Lars C. Stene (2015) Infant Growth and Risk of Childhood-Onset Type 1 Diabetes in Children From 2 Scandinavian Birth Cohorts. JAMA Pediatr. 2015;169(12):e153759